Batesburg-Leesville students will soon be eating more food grown by local farmers as part of a partnership involving the South Carolina Department of Agriculture and the South Carolina Department of Education.
Under the U.S. Department of Agriculture's Local Food for Schools Cooperative Agreement Program, the South Carolina Department of Agriculture is working with South Carolina distributor Senn Brothers to purchase foods and beverages from local farmers and distribute them to school districts for use in the National School Lunch and School Breakfast Programs.
The grant targets small and historically underserved farmers in an effort to strengthen the local food supply chain.
"We're building relationships between farmers and schools, and we're showing young people the importance of agriculture," said Commissioner of Agriculture Hugh Weathers. "This program can have a lasting impact on the health of our state and the future of farming."
Senn Brothers currently works with school districts across the state to supply fresh, local food to students. The grant will allow them to expand their sourcing from small, local farms and help those farms equip themselves to serve larger-scale customers.
Lexington County School District Three is receiving $6,000 to purchase fresh fruits and vegetables from local farmers though Senn Brothers Produce. The district will incorporate these local food items into its menus.
"This summer, Lexington Three purchased fresh peaches directly from Watsonia Farms and broccoli and collards from Rawls Farms," said Todd A. Bedenbaugh, Lexington Three's Director of Child Nutrition and School Security. "We also continue to purchase several protein items from the House of Raeford that are on our menus."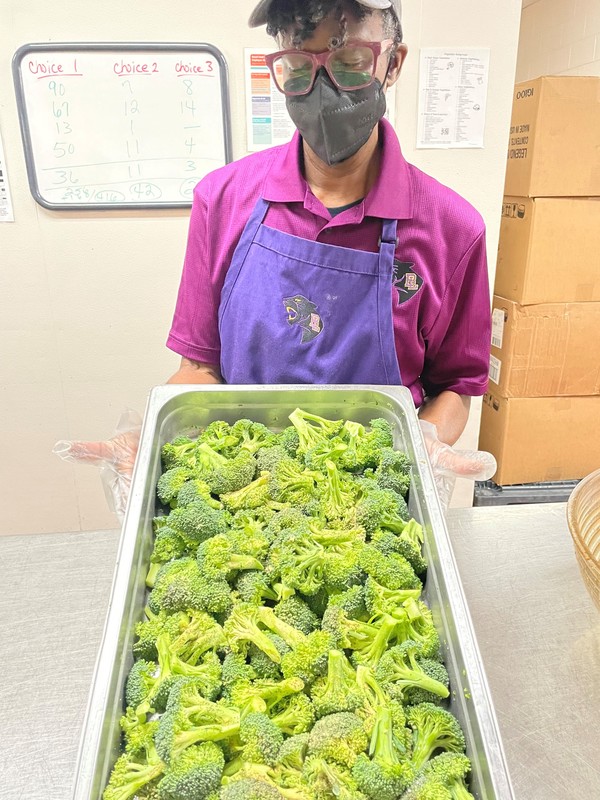 PICTURE CAPTION: One of B-L Elementary School's Food Services Department members, Debbie Vance, holds a pan of broccoli that was harvested on Wednesday, December 7th from WP Rawl Farm and served on Thursday, December 8th in the school cafeteria.