Here are a few important updates and reminders regarding student registration for the 2022-2023 school year. 4K and 5K Brand New Student Registration: The deadline for registration packets for brand new 4K and 5K students to be turned into B-L Primary School has been extended to next Wednesday, May 11th. For more information and to access the packets, please click here:
https://www.lex3.org/page/4k-5k-registration-new-students-only
Registration for Students Currently In Grades 4K through 11th: Parents who have not yet done so should go ahead and register their current Lexington Three student for the 2022-2023 school year using the PowerSchool Parent Portal. Details on how to do this can be found here:
https://www.lex3.org/page/registration-kickoff
Registration for Brand New Students Who Will Be In The 1st through 12th Grades Next School Year: Brand new students who will be in the 1st through 12th grades in the 2022-2023 school year must register in-person at our schools. Please contact the school where your child will be attending to make an appointment to come in and fill out paperwork, drop off documents, etc.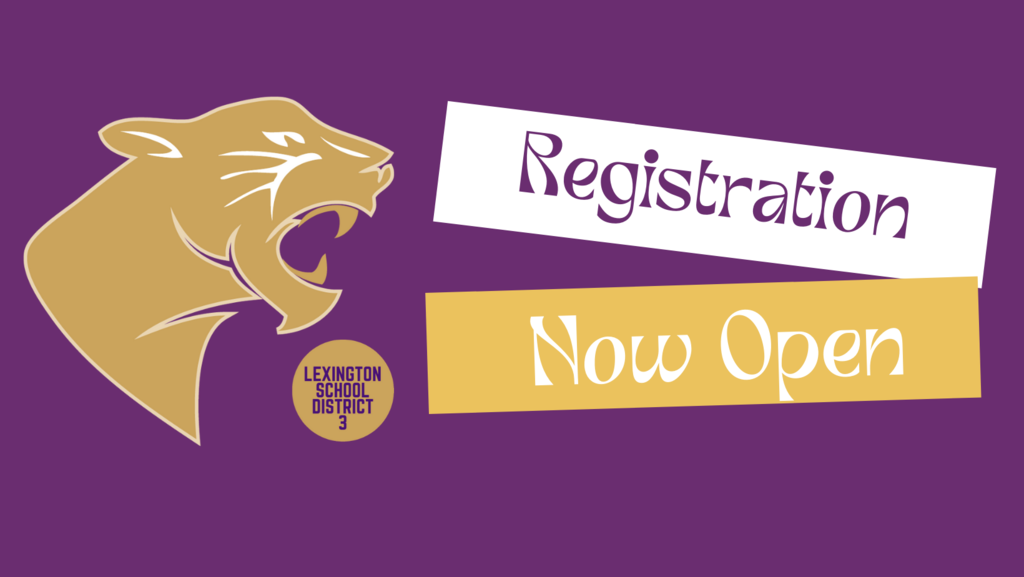 Our very own Dr. Era Roberts, Assistant Principal for Instruction at B-L High School, was recognized at the State House last Wednesday, April 27th, alongside the other Assistant Principals of the Year and Principals of the Year for South Carolina. Dr. Roberts was selected as the South Carolina Secondary Assistant Principal of the Year for the 2021-2022 school year back in November. This prestigious award is sponsored by the South Carolina Association of School Administrators (SCASA). (Dr. Roberts is pictured second from right.)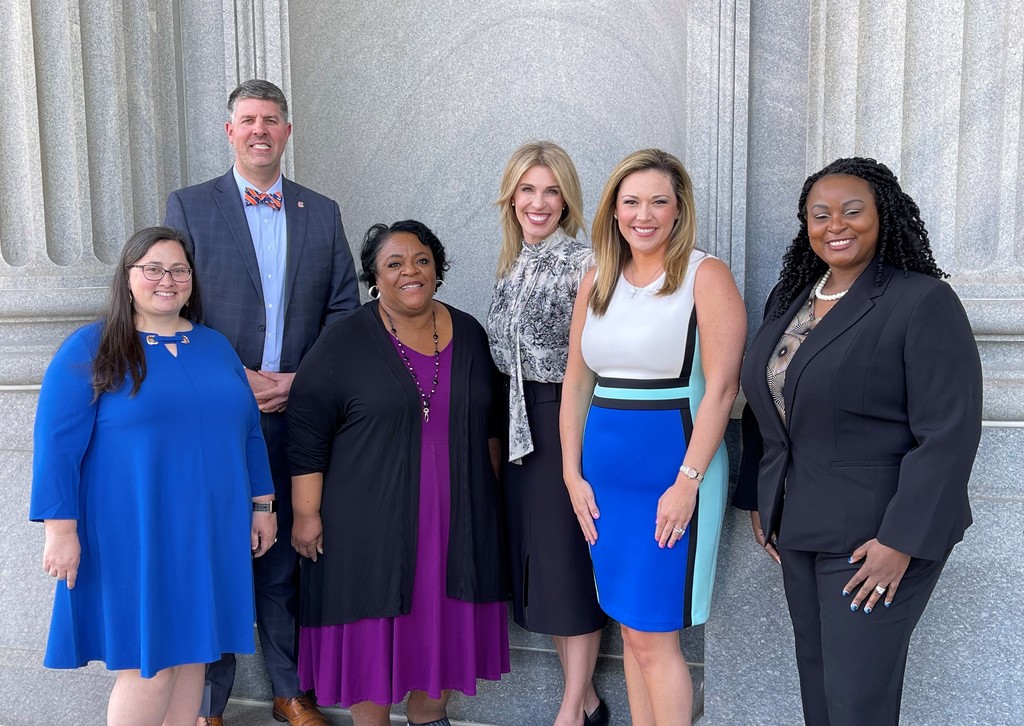 **REMINDER** Disney's Frozen Jr. will be presented at the Lexington Three Fine Arts Center THIS SATURDAY, April 30th! This musical has been two years in the making and our students are SO EXCITED to finally hit the stage and show off their acting and singing skills! Showtimes are at 11 am and 5 pm. Admission is $5 per person at the door, with all B-L Elementary School students and children ages five and under being admitted for free.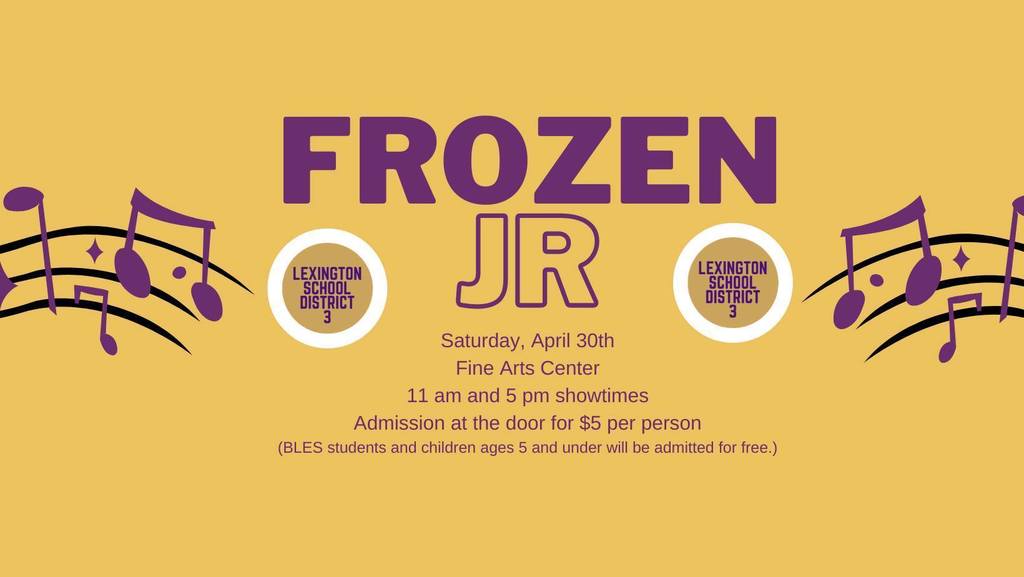 Don't forget that we are currently registering BRAND NEW students who would like to enroll in our 4K and 5K programs at Batesburg-Leesville Primary School for the 2022-23 school year. More details about how to register children can be found at
www.lex3.org
. HURRY, HURRY, HURRY! Registration is slated to end next Wednesday, May 4th!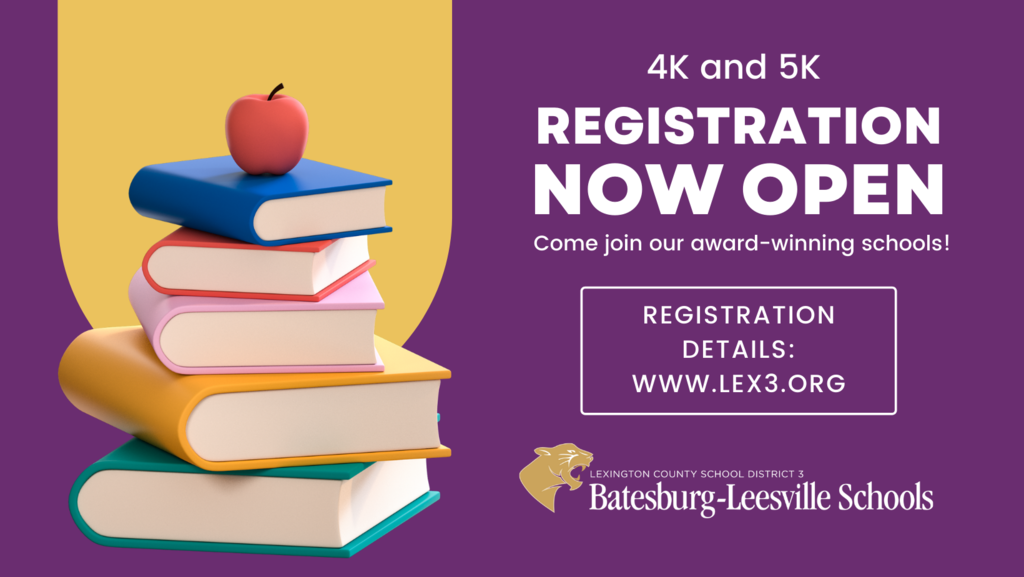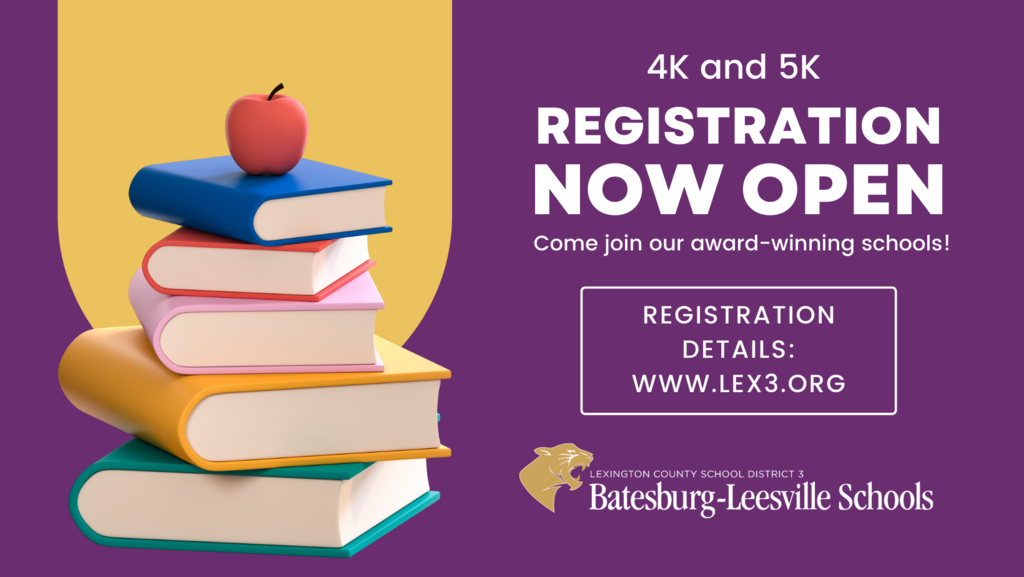 Due to the threat of severe weather that is being forecasted by the National Weather Service, Lexington County School District Three will release students early on Tuesday, April 5th. Click here for more details:
https://www.lex3.org/article/703888


One of the perks of going to school in Lexington County School District Three is being located in the wonderful community of Batesburg-Leesville! Check out the graphic for details about an upcoming egg hunt being sponsored by the Town of B-L and the B-L Chamber of Commerce. #lexington3istheplacetobe 💛💜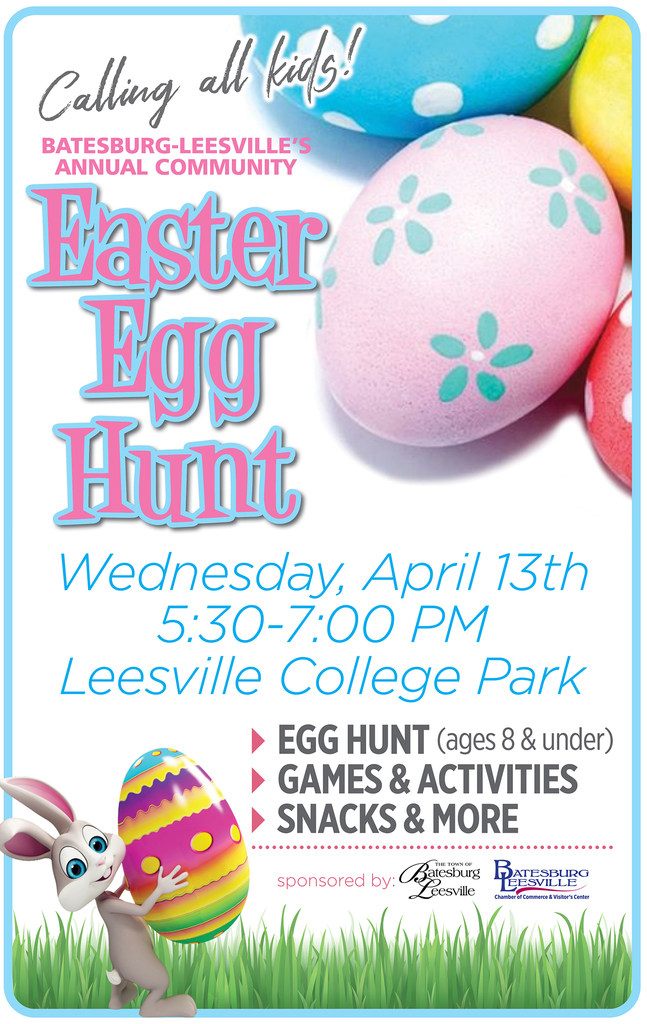 What a fun and memorable Thursday evening at the Lexington Three Fine Arts Center! Our K5 students knocked their music program "Go Fish" out of the park and "shorely" brought smiles to everyone who attended. We love our BLPS Panther Cubs! #lexington3istheplacetobe 💛💜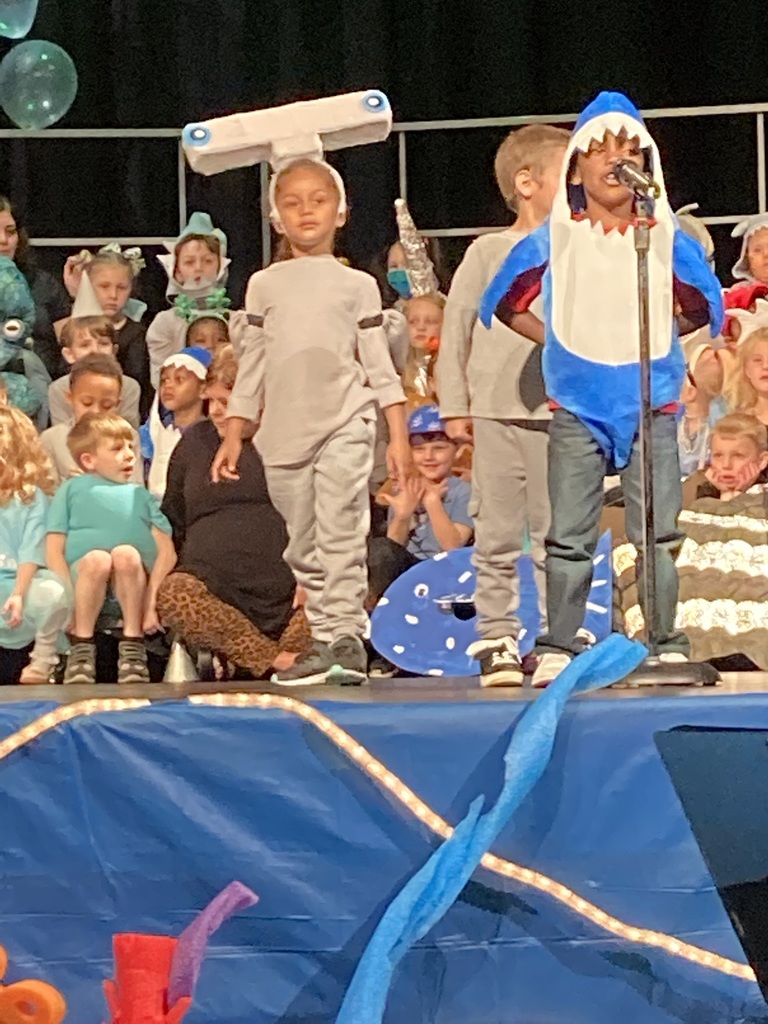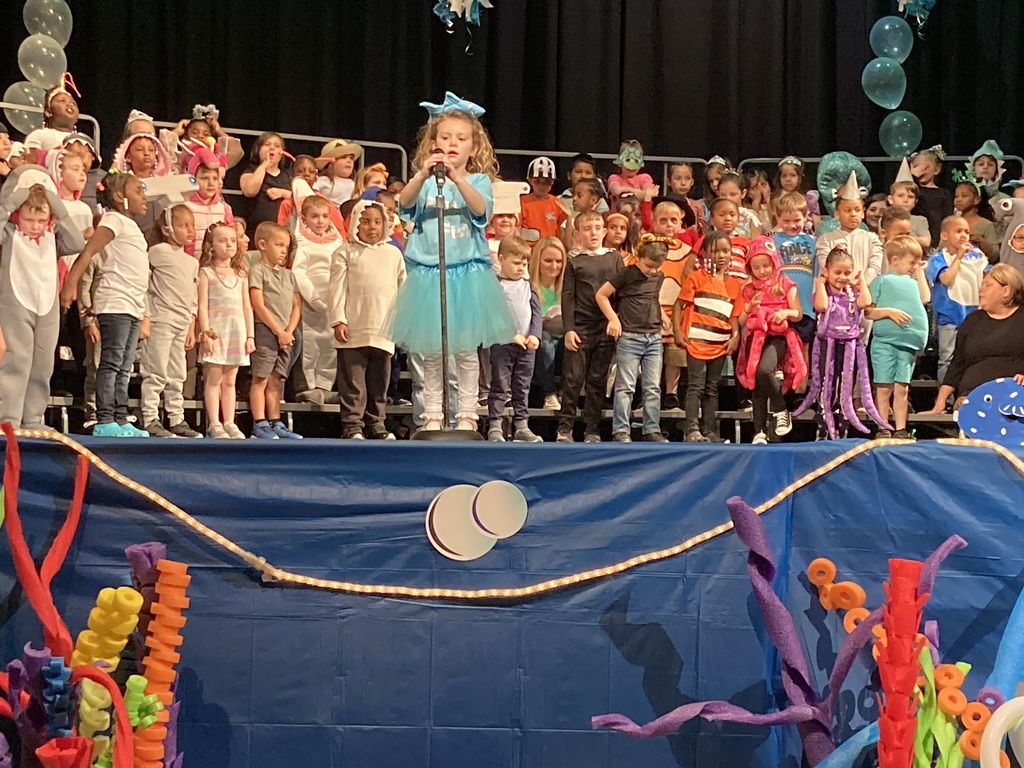 Happy St. Patrick's Day from Lexington County School District Three! We are blessed with the BEST students, staff, parents and community and we could not be more grateful! #luckytobeinlex3 #lexington3istheplacetobe 🍀🍀🍀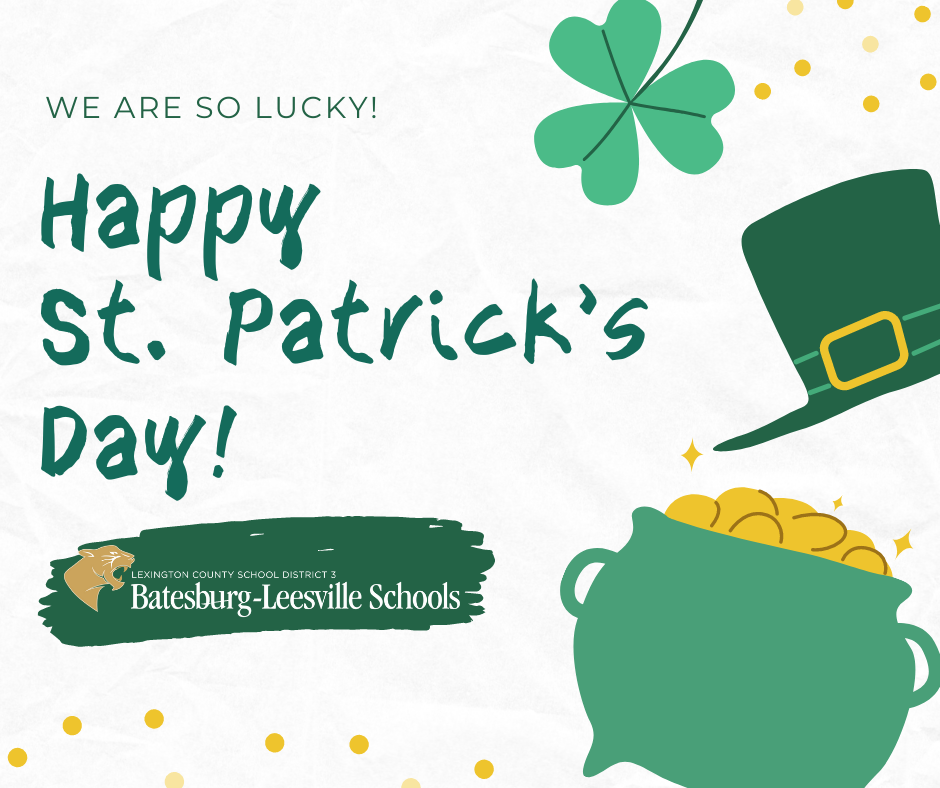 Congratulations to B-L High School senior Will Bouknight who recently signed with USC Sumter to attend school on a golf scholarship. Will is the son of Dave and Lisa Bouknight. Congratulations, Will, and best of luck to you!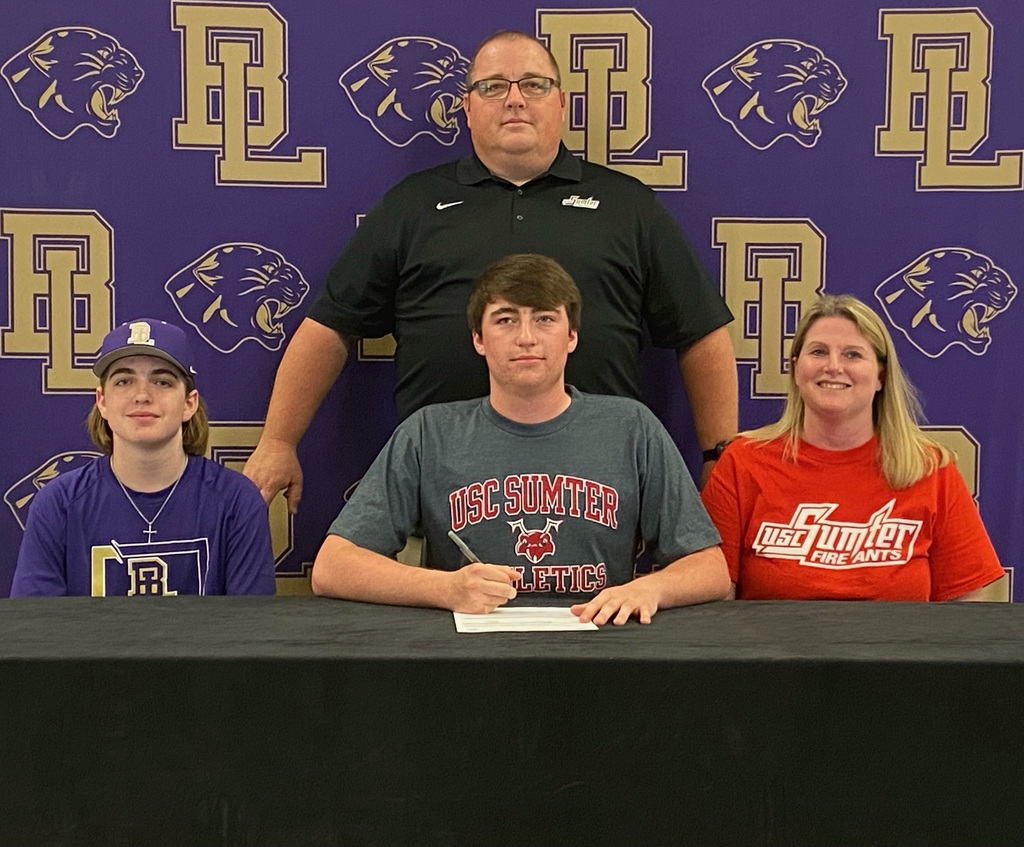 B-L Elementary School is honoring its Character Education winners for the months of January and February. Click the following link to find out who they are!
https://www.lex3.org/article/670270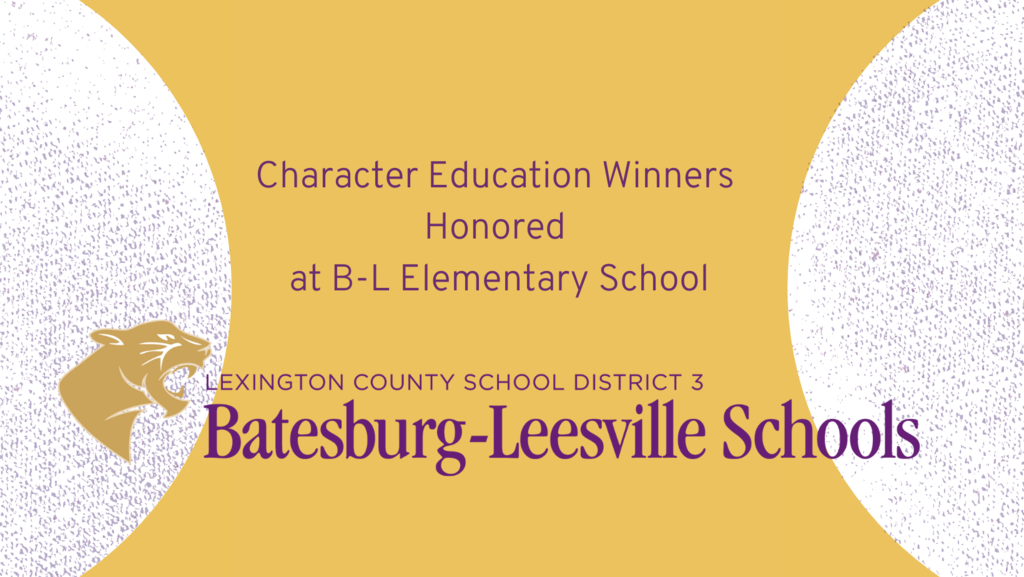 February is African American History Month and today, B-L Middle School hosted a special virtual program to honor, remember, and pay tribute to African Americans throughout history. Here are a few pictures from the event, but be sure to check out the livestream that was recorded and posted on our YouTube channel. Click here to view it:
https://www.youtube.com/watch?v=74fYKS0ORwI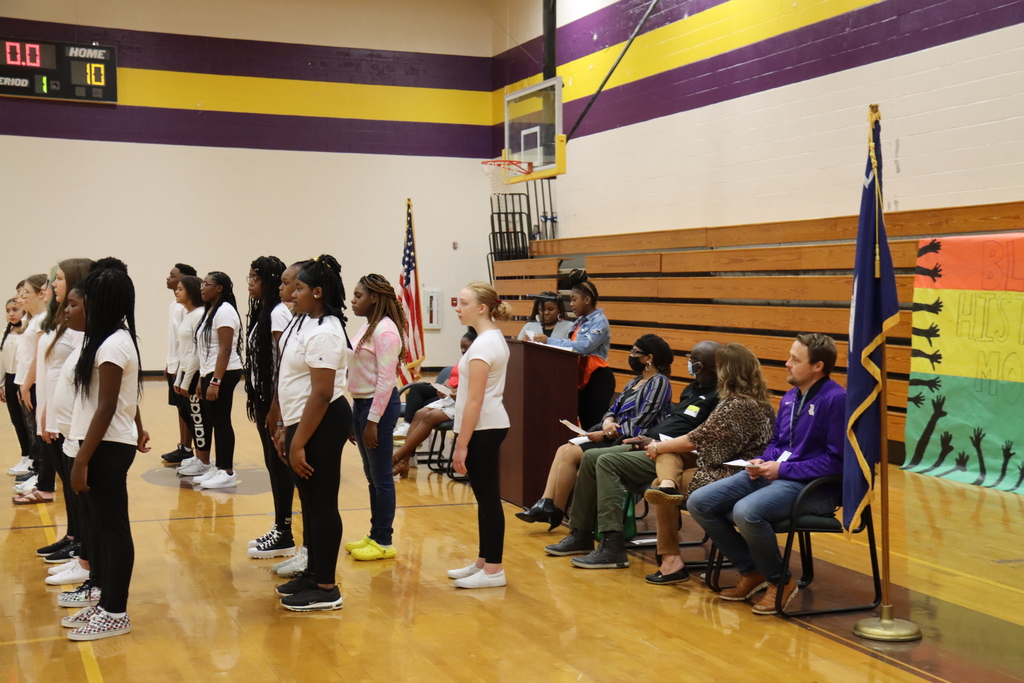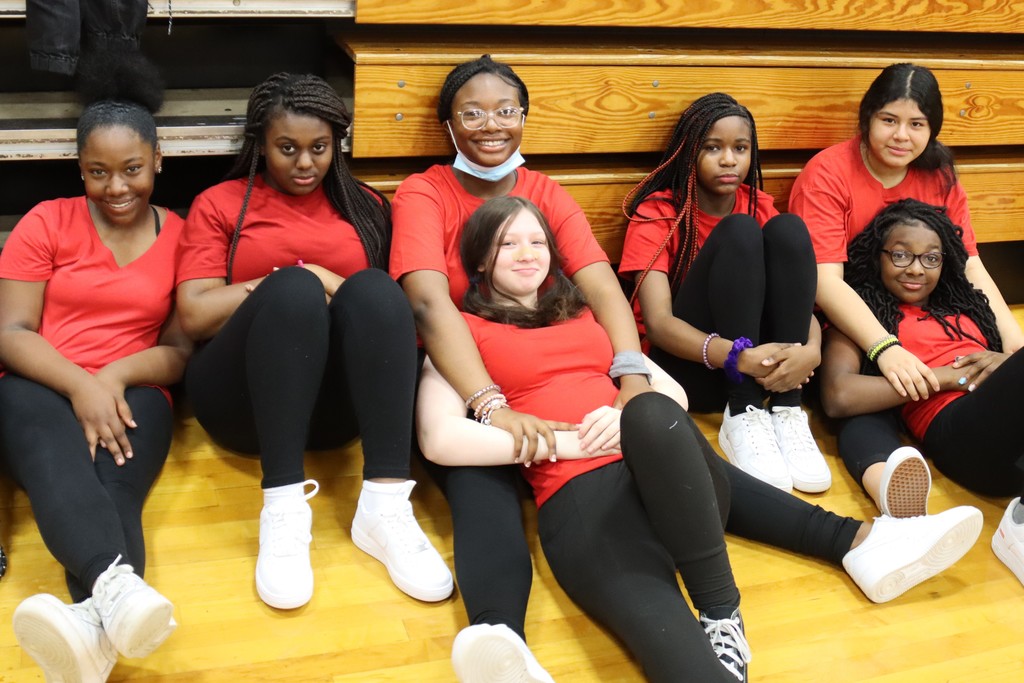 B-L Middle School Principal Sharah Clark was surprised on Wednesday, February 23rd with an award from the Veterans of Foreign Wars of the United States. She accepted the award on behalf of her school since one of her teachers, Mrs. Tristin Padgett, was named as the South Carolina winner of the Smart/Maher VFW National Citizenship Education Teacher Award back in January. Pictured from left to right are Tristin Padgett, Principal Sharah Clark and SRO Charles Holloway (who also serves as the VFW Post 6561 Quartermaster).

Congratulations to Imani Hall (left), Chamajd Hyland (right), and Dyani Dennis (not pictured) on being named All Region players for basketball! Chamajd was also named an All State player. (It's been approximately ten years since B-L High School had an All State boys basketball player.) Way to go Panthers!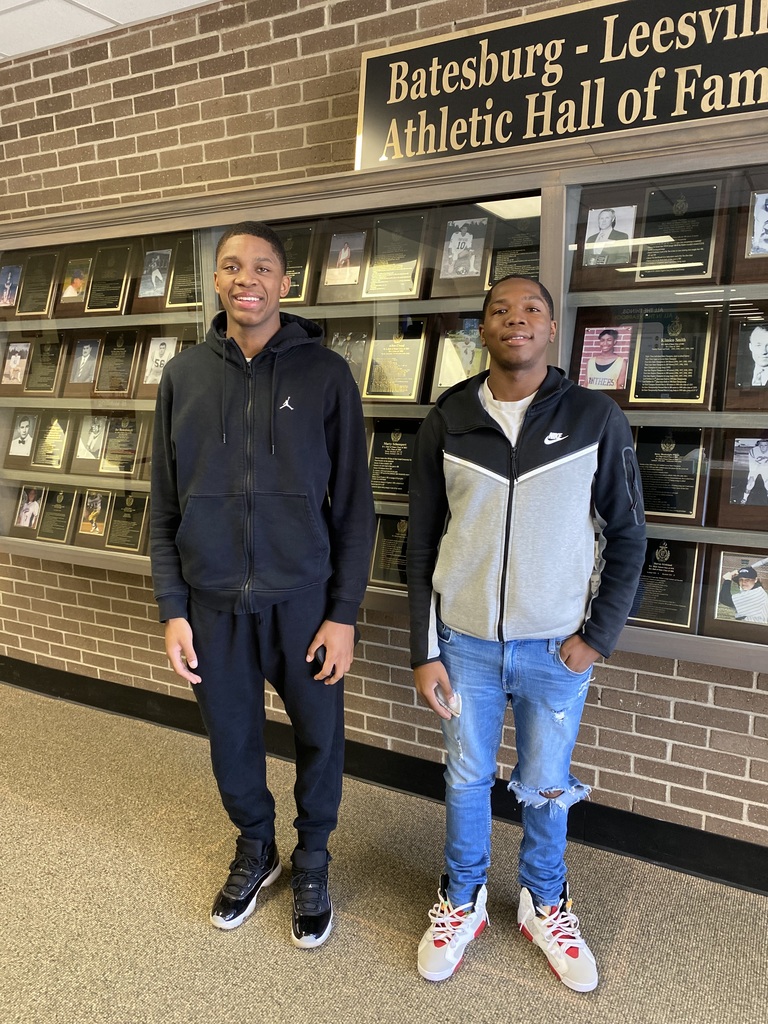 The B-L High School varsity boys basketball team defeated Greer Middle College last night in a first-round playoff game with a final score of 44-41. The Panthers advance to the 2nd round of the playoffs on Saturday, February 19th when they take on the Andrew Jackson Volunteers. Tip-off is 6 pm at Andrew Jackson High School (6925 Kershaw Camden Hwy, Kershaw, SC 29067). Tickets are $8 each and can be purchased here:
https://gofan.co/app/events/550012?schoolId=SC69
Only SC High School League passes will be accepted due to the fact that this is a playoff game. GO PANTHERS!

The varsity boys basketball team will face off against Greer Middle College in a first-round playoff game on Thursday evening (February 17th) at the B-L High School gym starting at 7 pm. Tickets will be sold at the door for $8 each. Please note that no passes can be accepted (with the exception of SCHSL passes) due to this being a playoff game. Thank you for your support of Panther athletics!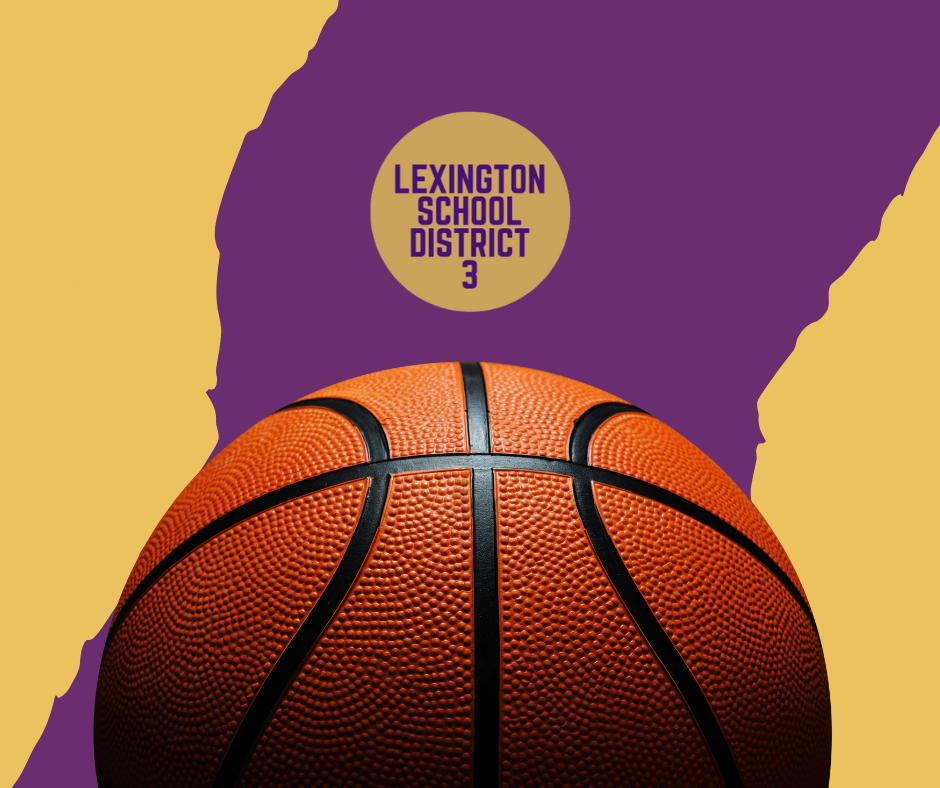 The B-L Middle School Beta Club finished up a community service project on Valentine's Day by delivering bagged care packages to every resident of Generations, an assisted living facility in Batesburg-Leesville. The bags contained items such as candy, lotion, brushes, combs, lip balm and puzzle books. Pictured are BLMS Principal Sharah Clark and Addy Lynn Ruff, Secretary of the BLMS Beta Club.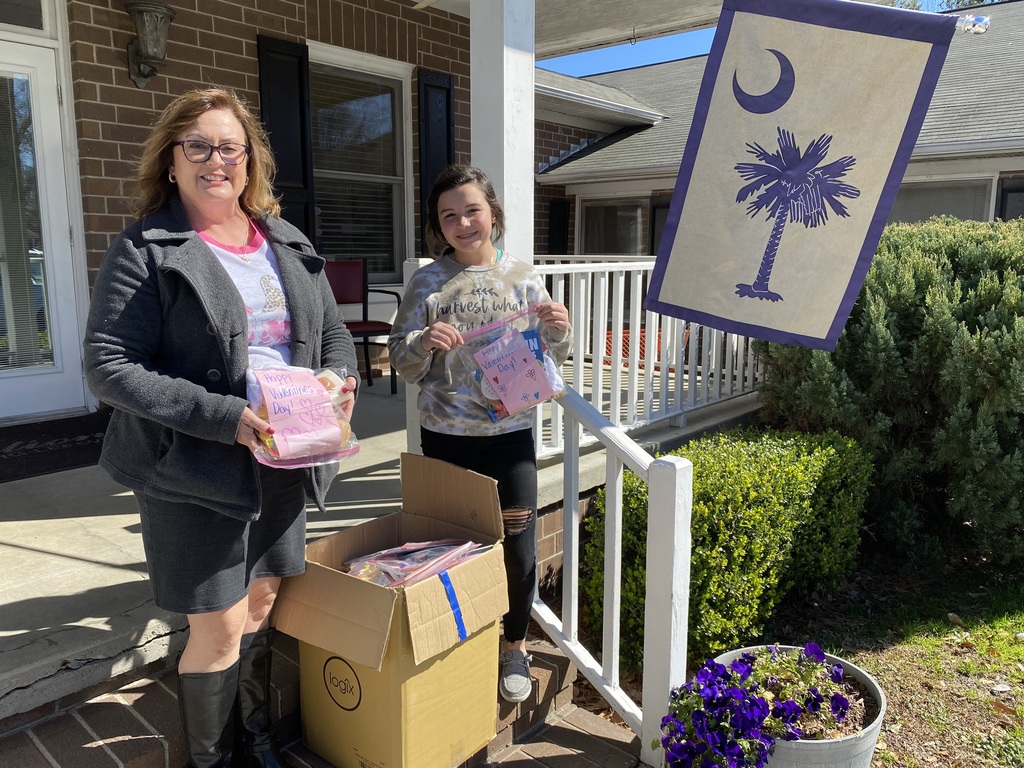 The Lexington Three administration team delivered doughnuts to all of our campuses today to show Panther faculty just how much we care for them...not just on Valentine's Day, but every day! We cannot thank our staff members enough for all of the love that they pour into our students throughout the year. Happy Valentine's Day! ** Pictured are staff from B-L Primary School's Food Services Department holding a box of yummy doughnuts!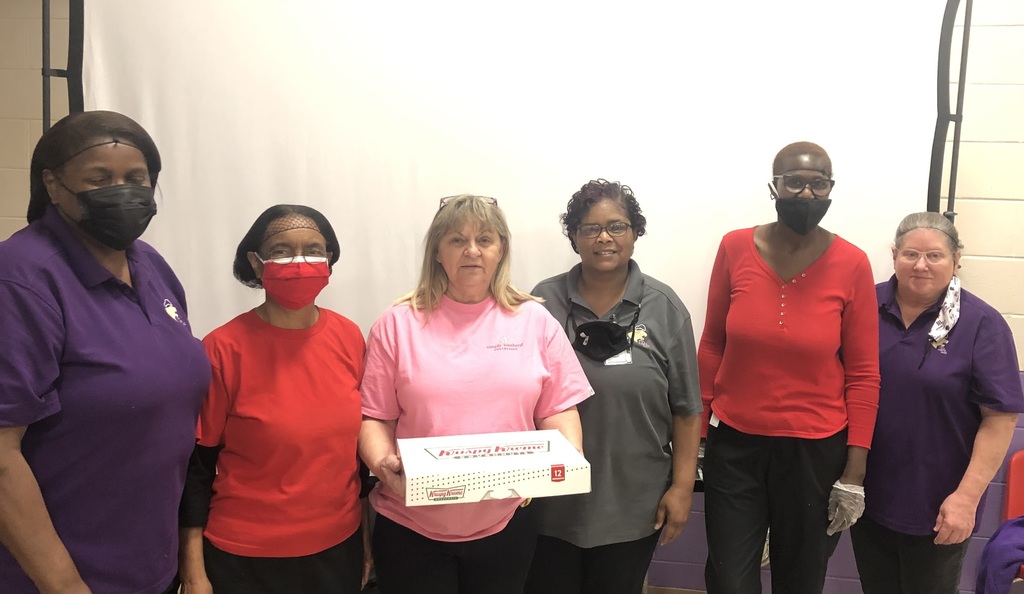 It's Bus Driver Appreciation Week and we want to give a special shout-out to all of the men and women who are up way before the sun rises and get home sometimes long after the sun sets because they're safely transporting our students to and from school, athletic events, competitions, matches and more. We salute you and thank you for your dedication to our Panther students!